VERTICAL SURFACE-MOUNTED STAINLESS STEEL BABY CHANGE STATION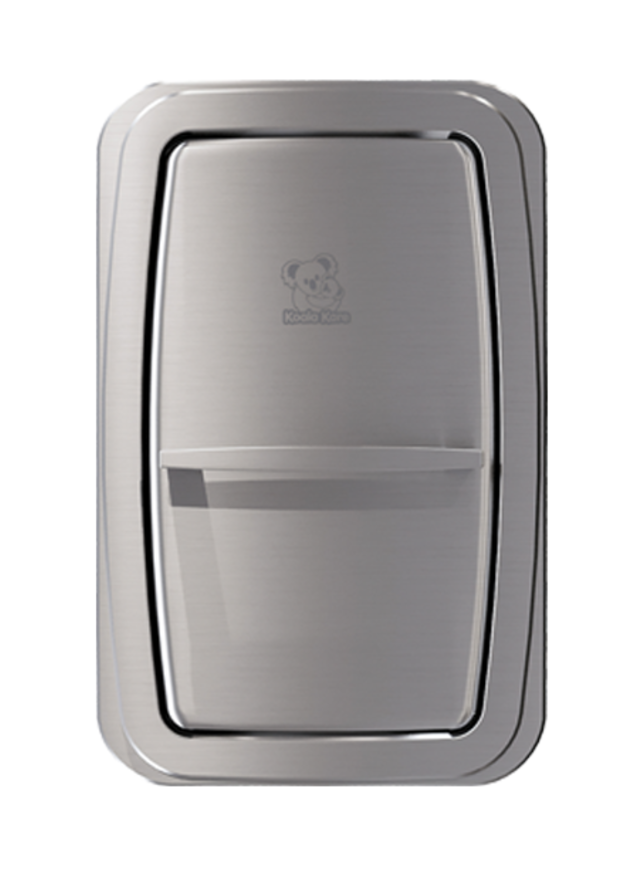 Features:
Bed surface contains Microban® antimicrobial product protection, offering effective protection against product-damaging microbial growth on the surface of products. By inhibiting odor-causing bacteria on the surfaces of baby changing stations, Microban® helps maintain a sanitary changing surface. This technology is manufactured into the changing station, so it won't wash off or wear away, offering protection for the lifetime of the product
Front panel is 18-8, Type 304, stainless steel with satin finish 
Laser etched Koala logo is subtle and stylish
Each unit includes an external stainless steel bag hook for installation beside the unit. Keeps diaper bag in closer proximity to the top of the open bed allowing easier bag access for the caregiver
Deep drawn stainless parts have no plastic covering or visible plastic on the front of the unit
Injection molded grey polypropylene bed surface
Integral steel chassis offers outstanding bed stability with minimal deflection with a 200 lb. static load placed in the center of the changing surface
Compliant with the NZBC, ATSM Compliant, ADA Compliant
Steel on steel hinge has greater resistance to wear and improved durability.
Gas spring mechanism ensures smooth open and close.
Redesigned dual liner dispenser allows for easier refills and dispensing. Includes locking mechanism that is keyed alike of Bobrick restroom accessories.
Unit Dimensions: 669 mm x 1050 mm
Depth (closed): 172 mm
Extension (open): 834 mm
Shipping Weight: 36kgs