Touchless Bobrick Products - Create a More Hygienic Experience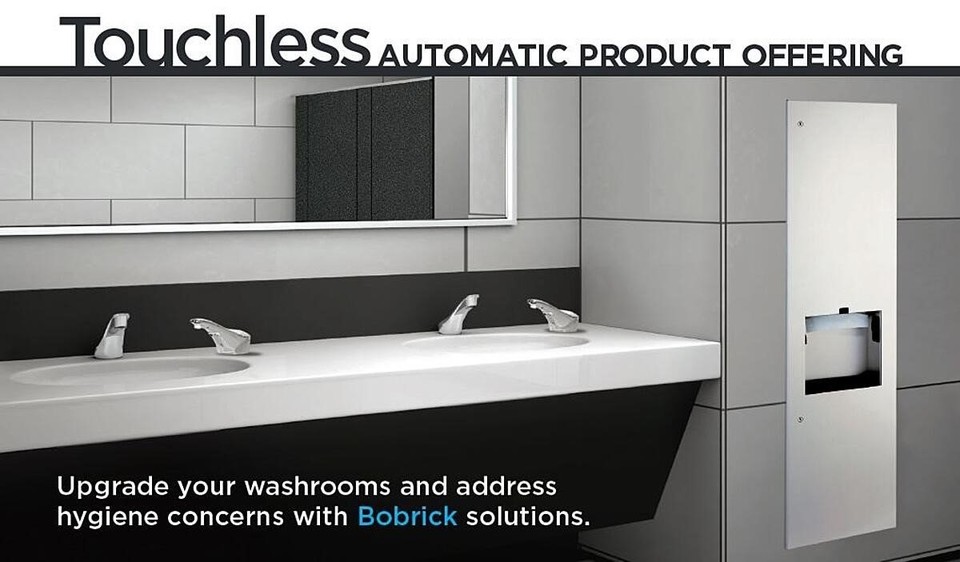 Bobrick has a comprehensive range of touch free handwashing and drying solutions.
In today's environment, hygiene is top of mind. Washroom users and building owners are increasingly concerned about physical touchpoints in shared spaces.
As a design professional, you can help by specifying touchless products that also meet your design and operational objectives. Bobrick is here to support you with our touchless, automatic product offering:
Soap Dispensers: Choose from a range of counter-mounted, automatic dispensers that accommodate non-proprietary bulk soap, including the B-824 SureFlo™ Liquid Soap Dispenser. Or, turn to Bobrick's wall-mounted dispensers, which can dispense alcohol-based liquid, gel or foam hand sanitisers.
3-in-1 Unit: Our sleek, sophisticated B-38030 Recessed Paper Towel Dispenser, Automatic Hand Dryer and Waste Bin ensures hygiene by providing users with multiple hand drying options.
Hand Dryers:

Choose from a selection of hygienic, sustainably operating models, including the B-3725 Hands-in Recessed Hand Dryer, featuring an oversized drying alcove that prevents unsanitary water trails in the restroom.
Have a look at the full Touchless Brochure here. To specify, or for any queries, call us on 09 623 1699 or email info@zone.net.nz.
Posted: Friday 4 December 2020